Supporting results-based programmatic approaches in Cambodia
Programme-based approaches (PBAs) are the Royal Government of Cambodia's (RGC) preferred tool for implementing sector strategies and core reforms. PBAs are regarded as a mechanism to promote national ownership of development programmes, ensure coherent programming of resources, strengthen national capacities and systems, and, most important, to deliver development results. At the third CDCF meeting in June 2010, RGC and its development partners endorsed the PBA approach and agreed to move forward with their implementation.
A PBA, elaborated further in an October 2010 RGC concept note (Khmer Version), is about getting organised to produce the best results. A programme-based approach is defined in terms of its objective. This is usually stated as an effort by Government to lead a sector, thematic issue or a reform programme in a coordinated way to achieve results in an efficient and sustainable manner.
Following directly from the definition of a PBA and the principles on which they are based, the basic components of a PBA are shown in the diagram below.
Components of a PBA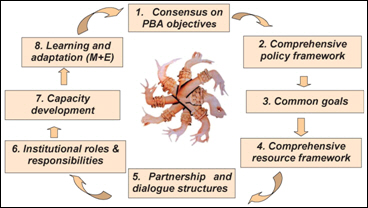 It is clear that the PBA itself is not a financing instrument, it is a process to ensure national ownership of a policy-driven approach to achieving a developmental objective. The PBA is not synonymous with pooled funds or budget support and does not exclude projects.
Policy, PBA and financing modalities
CRDB/CDC is able to provide all RGC ministries, agencies and TWGs with support to PBA development in the form of clinics. These will contextualise their use for the sector; examine how they can promote effectiveness, efficiency and results; identify measures to improve partnerships; and facilitate improved technical cooperation and capacity development practices.
Ministries, agencies or TWGs requiring support are invited to contact CRDB/CDC.